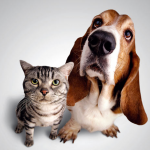 Anyone that has experience in cleaning a house with pets will tell you the same thing: it is a hard job! No matter how much you clean and vacuum, pet hair seems to appear magically in every corner of the house.
So here is a list of essential tools to win the "fight" against pet hair at home!
Vacuum cleaner. We all know how important it is to have a good hover to get rid of unwanted pet hair. Make sure you keep the vacuum cleaner working at its full potential by emptying the bag after every use and checking the filter regularly. Hovers are good to use on carpeted floors and upholstery. As we have explained in the past, when hovering a carpeted floor, always do several passes with the vacuum on high transit areas.
Electrostatic dust mop. These are best used on hard floor surfaces. They will attract pet hair easily thanks to their static power.
Microfibre cloth. These cloths are the multi-purpose tool in here. They can be attached to a broom and used on hard floor surfaces, in case you do not have an electrostatic dust mop. They can also be used on hard to reach corners on carpeted floors (just damp them a little bit and drag across the area where the carpet meets the skirting boards). They can also be used on upholstery, to get rid of pet hair on sofas or beds.
Rubber gloves/ squeegees/ damp sponges. As an extra, these can always be used on carpeted floors and upholstery.
Get yourself armed to fight your pet hair with these tools, and don't forget to brush and bath your pet regularly, as that will reduce the amount of hair around your home, making the cleaning process easier.
Do you have any tips on cleaning pet hair? share with us!