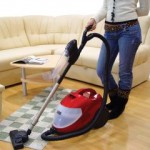 Clean as you go
As silly as it sounds, if your house is in order before the domestic cleaner arrives, she will have more time to do a thorough job and even do some extra deep cleaning if need be.
Communicate with your domestic cleaner
Domestic cleaners are not mind readers and they will not know that you want things to be done in a certain way. Tell her your priorities and expectations.
What the domestic cleaner needs from you
– Good quality cleaning products and equipment. if you want a good job you will need to provide enough cloths, enough chemicals and a good vacuum cleaner and mop.
– Hours. To do a good job, your domestic cleaner will need time. Make sure you arrange enough hours with her so the end result is what you are expecting.
And if something does not go well?
If your domestic cleaner proves to be unreliable, look for another person. Sadly, unreliable cleaners will not change; instead of getting weekly headaches, look for someone that will take their job seriously.
What other tips would you add to this list? Share with us!