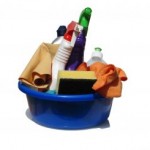 The quality of cleaning, whether done by you or a professional cleaner, depends highly on the products used. It is easy to get confused in the current market as there are so many options to choose from. Bellow you will find a list of basic cleaning products created by Amy Cleaning to help you out.
It may be very tempting to buy multipurpose products for the house, but this is not the route to take for best results. Remember that products orientated to specific target market and specific surfaces in this case, will always work better. If you have wooden surfaces, invest in a good polisher for wood; if you have marble, look out for sprays designed to clean marble. Multipurpose cleaners may even damage your surfaces in some cases so always keep an eye on something designed for sole purpose.
List of recommended cleaning products:
*Rubber gloves
*Kitchen surface cleaner and oven cleaner
*Dishwashing liquid
*Cleaner for bathtubs and sinks
*Sponges
*Window and glass cleaner
*Wood polish
*Upholstery/carpet spot remover
*Microfiber or feather duster
*Toilet bowl cleaner
*Toilet bowl brush
*Cloths and paper towels
*Mop and bucket
*Broom and dustpan
*Vacuum cleaner and vacuum cleaner bags
Here at Amy Cleaning the most common problem that cleaners come across is that they do not have enough cloths. Please make sure that you invest into cloths and sponges on a regular basis as that is something that can only be used for limited time before it has to be disposed off. Bear in mind that your cleaner will be using separate cloth for each room and each area of your house. Always discuss with her what she needs and follow her advice.