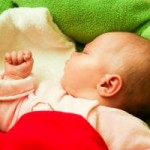 Those with children will understand the need to keep our homes safe from hazardous chemicals when cleaning. The safety of our babies come as a priority on everything we do.  Many cleaning products contain ingredients that, if inhaled or ingested can cause serious problems. Chemicals such as bleach or air fresheners are the most dangerous ones and they have been linked to and increase on childhood asthma.
To keep your baby's nursery (and your house!) up to standards you can always turn your head to the so called "green products" you have on your cupboard, that is vinegar, baking soda and tea tree oil. But if you don't have time enough to make magic concoctions then check on your local supermarket for non-toxic, bio-degradable chemicals.
I can think about some easy steps that you can follow to keep your baby's room pristine:
– Check the crib/bed regularly: wash the bed clothing and wipe the waterproof mattress when changing sheets.
– Wash toys: warm soapy water will be enough to keep them clean and get rid of the grime.
– Air the room daily: about 10/15 minutes will do; the breeze coming in will get rid of any odours.
– Dust the room regularly: no chemicals needed, just a damp cloth; and you can use some drops of lavender oil to make the room smell lovely.
These are just a few examples of how to keep you home clean when there are babies around. Let us know if you have any other ideas!