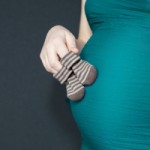 Pregnancy always make us aware of our surroundings while we try to create a calm and safe environment for the new baby. At the same time as we think about the nursery and the baby safety around the house, we can't forget about the cleaning. Most of the cleaning products we buy on supermarkets are made of harmfull ingredients that can cause anything from a mild reaction to more severe health problems.
Here are 4 cleaning products that you should avoid if pregnant and what you could use instead:
1- Bathroom cleaners: We tend to use very strong products to clean our bathrooms, specially to get rid of lime scale and dirt in the toilet bowl. These cleaners are made of toxic chemicals that can, apart from damaging your bathroom surfaces, be a danger for your future baby.
What to use: Have a bottle of 50/50 solution of water and vinegar ready to use after your daily shower as a preventative method to avoid lime scale. And use a baking soda paste to clean the surfaces and get rid of mildew.
2- Oven cleaner: There is no mystery on this one. Most of us have felt dizzy while using oven cleaners and ended up with a headache. The chemicals in oven cleaners can cause skin burns, irritation on eyes and lungs and acute poisoning from ingestion.
What to use: Sprinkle baking soda (a lot) all over your oven; then spray water on the baking soda until it starts to make some foam and leave it to work (spray some more water later on if you see that it is getting dry). Wipe the paste and dirt with a sponge.
3- Polish: Chemicals on furniture polish (specially perfum) can cause irritation and allergic reactions.
What to use: A good feather duster or micro fibre cloth and opened windows will do the trick. But if you are looking for a nice odour after doing the dusting, then you can use some scented candles or a home made air freshener like these ones.
4- Window cleaner: A lot of the window cleaners available have ammonia as one of their ingredients. The fumes can cause health problems on lungs and skin.
What to use: Use a spray bottle with a 50/50 solution of water and vinegar and 1/2 teaspoon of washing up liquid. Spray your windows and wipe with a cotton cloth.
Poisoning from house cleaning products is a serious matter and more common than we think. Having some alternatives on hand is always something pregnant mothers should have in mind to protect their health and their new baby's health.