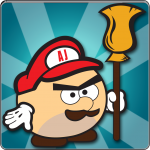 A mixture of Mario and Angry Birds is this app that wants us to learn more about cleaning and to make us aware of the importance of Health & Safety.
This free game was brought by ISSA (International Sanitary Supply Association) last year.
Help Sweepy, the janitor, clean all dirt and germs to unlock new levels and get high scores. There are three areas to clean: the school, the office and the hospital.
This app is a fun and quirky mix-match game that may put a smile on your face, even if you are not a cleaning professional.
Give it a try! You can install it for free at Google play.