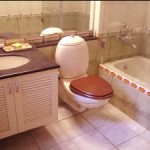 An investigation at John's Hopkins Children's Centre has found an increase on skin irritations caused by toilet seats.
The comeback on wooden toilet seats, mixed with the regular use of strong cleaning products, has caused an increase on the number of children developing skin irritation which can lead to serious infections if not treated properly.
To prevent toilet dermatitis, doctors at the Centre recommend the use of paper as seat cover, the replacement of wooden toilet seats with plastic ones and avoiding the use of strong chemicals, specially those containing phenol or formaldehyde.