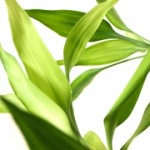 Warm weather is at our doorstep and we are already thinking about giving our homes a good shake. You hear about spring cleaning tips everywhere but, what about your plants?
When you do deep cleaning at home, don't forget about your plants, they may need to be cleaned on a regular basis also.
Dust is not good for plants. Dirty leaves cannot photosynthesise;  this means that leaves cannot absorb sunlight and carbon dioxide to make food for the plant. In one word, the plant cannot "breathe" properly.
The easiest way to get rid of dust and make your plants shinier is to give them a good shower. Put your plants on your bath and give them a quick sprinkle of tepid water; just a couple of minutes, do not overdo it, as too much water is also not good for certain plants.
Cactus and hairy plants cannot be put in the shower. Just brush them with a soft brush (e.g. paintbrush) to get rid of dust.
What other tips do you have to clean your plants? Share with us!